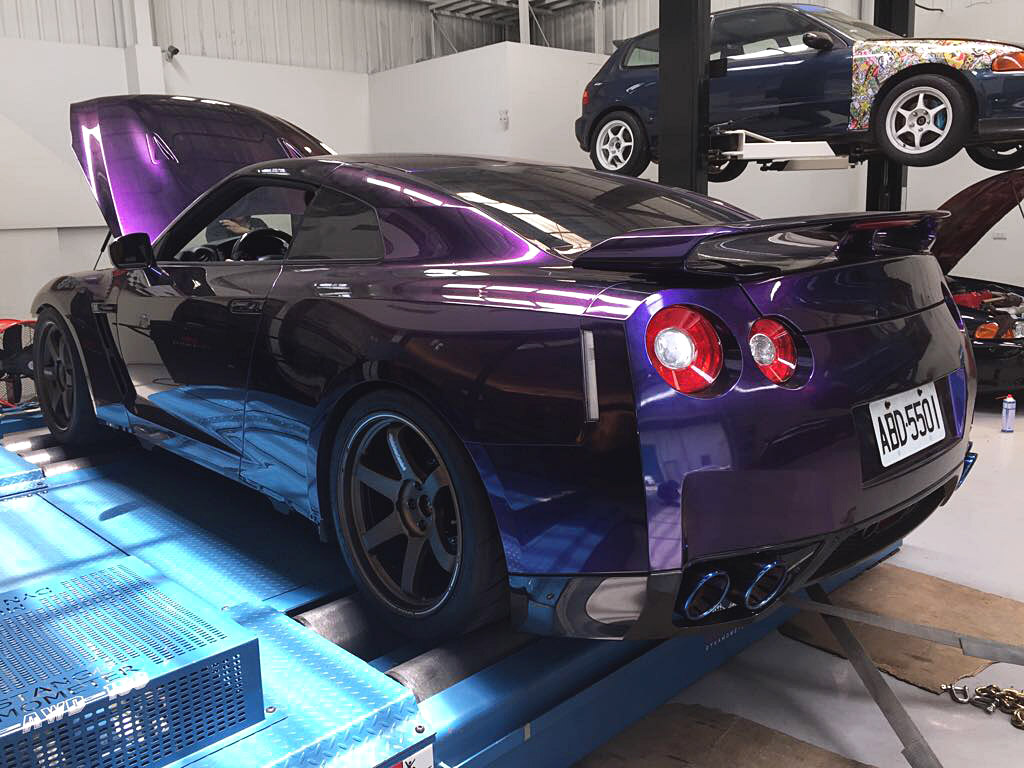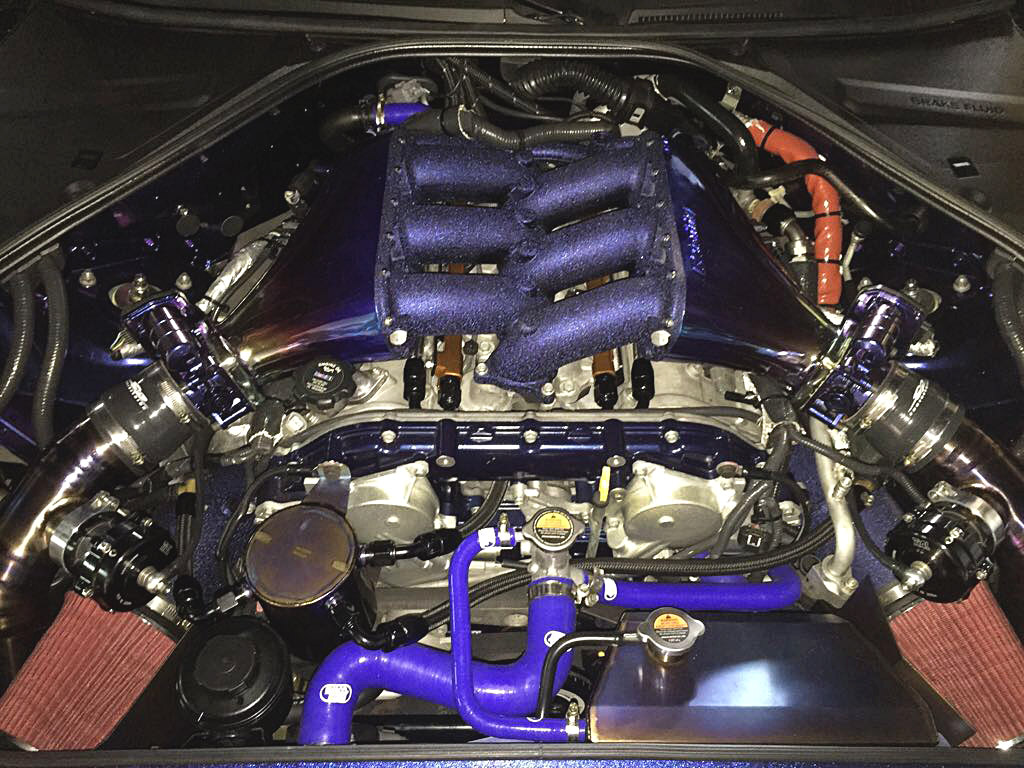 HORSEPOWER - PUMP GAS: 1000HP+
C16 RACE GAS - 1500HP+ HP
PRICE - PLEASE CONTACT US FOR MORE INFO
BUILD TIME - 5 WEEKS
Listed Engine and Transmission Parts are Subject to Change
The SPE1400R package is built to please. While cranking out a massive 1600+ hp on C16 Race Gas, you'll feel like you're in your own personal rocket ship. At it's full potential, this performance package isn't for the lighthearted. If you're looking to run amongst the best in the industry and win, SPE1400R is where you want to be.
SPE1400R features most of the top-of-the-line parts and components found in our top performing GT-R package, SPE Godzilla. It features a complete blueprint and balanced short block race engine, massive high volume fuel system, cutting edge transmission components from leaders in the industry and several more premium upgrades to handle the intense high speed and power this packages creates.
Even with all of these performance-oriented upgrades, the SPE1400R GT-R is still capable of running as a docile street machine for those times you just want to cruise and enjoy the essence of the GT-R. We have built this package to be versatile to all end users regardless of the task at hand.
PACKAGE INCLUDES:
SPE 1400R - TURBO SYSTEM
SPE SPEC - EQUAL LENGTH TURBO MANIFOLDS

SPE SPEC - BILLET 64MM PRECISION TURBOCHARGERS

TIAL - BILLET V-BAND WASTEGATES

SPE SPEC - HIGH FLOWING 3" STAINLESS STEEL V-BAND DOWNPIPES
SPE SPEC - RACE INTERCOOLER SYSTEM
SPE SPEC - INTERCOOLER PIPE KIT IN FULL POLISH

TIAL - BILLET BLOW OFF VALVE
SPE SPEC - CUSTOM 4.1L RACE ENGINE
SPE SPEC - FULL BLUE PRINT AND BALANCED SHORT BLOCK

SPE SPEC - BILLET KNIFE EDGED CRANKSHAFT

SPE SPEC - CARRILLO BILLET H BEAM CONNECTINGRODS

SPE SPEC - HIGH COMP CP FORGED PISTONS

SPE SPEC - CAMSHAFTS

SPE SPEC - COMPLETE VALVETRAIN

SPE SPEC - PORTED RACE HEADS

SPE SPEC - HEAD & MAIN STUD KIT
SPE SPEC - 4" AIR INTAKE SYSTEM
SPE SPEC - INJECTORS
SPE SPEC - HIGH VOLUME FUEL RAIL SYSTEM
SPE SPEC - FUEL PUMP HANGER SYSTEM (x3)
SPE SPEC - FUEL PRESSURE REGULATOR & GAUGE
SPE SPEC - FLEX FUEL KIT
SPE SPEC - HKS RACING SPARK PLUGS
HKS - METAL HEAD GASKETS
OEM - NISSAN MAIN AND ROD BEARINGS
OEM - NISSAN COMPLETE GASKET SET
OEM - NISSAN COMPLETE SEAL SET
ATI - CRANK DAMPER
OTHER UPGRADES - AC REFILL
- POWER STEERING FLUID
- ENGINE OIL AND FILTER
- ENGINE COOLANT
TRANSMISSION - SPE STAGE 5 TRANSMISSION:
STAGE 5 - (1500 FT LBS)
SPE SPEC PROMAX 12 DISC CPM ALLOY CLUTCH KIT
SPE SPEC HEAVY DUTY CLUTCH RETURN SPRING SEALS
SPE SPEC EXTREME DUTY FULL GEAR SET 1-6
SPE SPEC EXTREME DUTY OUTPUT SHAFT
SPE SPEC REAR OUTPUT GEAR SET
SPE SPEC BILLET THRUST PLATE
SPE SPEC FILTER PICKUP EXTENSION/RELOCATION KIT
SPE SPEC BILLET R/1 GEAR SHIFT FORK
SPE SPEC SOLID SHIFT FORK SHAFT FOR 2/4/6
SPE SPEC SOLID SHIFT FORK SHAFT 3/5
SPE SPEC FWD RETAINER
SPE SPEC FWD OUTPUT SHAFT SEAL
SPE SPEC 1, 3, 5 THRUST BEARING CIRCLIP
SPE SPEC 2, 4, 6 THRUST BEARING CIRCLIP
SPE SPEC MECHANICAL LOCK 1 & 2
SPE SPEC PISTON SHAFT SEALS (X2)
SPE SPEC SELECTOR PISTON SHIMS (X4)
SPE SPEC O-RING & SEAL KIT
SPE SPEC MAGNET KIT (6PCS)
SPE SPEC OUTPUT SHAFT END FLOAT SHIM
SPE SPEC HYLOMAR HIGH TEMP SEALANT
SPE SPEC TITEK REAR DIFFERENTIAL BRACE
OEM TRANSMISSION CYLINDER FILTER
OEM TRANSMISSION PAN FILTER
OEM TRANSMISSION & REAR DIFFERENTIAL DRAIN PLUG GASKET
OEM TRANSMISSION & REAR DIFFERENTIAL FILL PLUG GASKET
OEM REAR DIFFERENTIAL OIL SEAL
DODSON SYNCHRO SETS (RECOMMENDED, ADDTL CHARGE)
DODSON GEAR SELECTOR RINGS (RECOMMENDED, ADDTL CHARGE)
OPTIONAL UPGRADES:
SPE - FULL STAND ALONE SYSTEM (MOTEC / SYVECS)
SPE - THROTTLE BODY
SPE SPEC - GREDDY INTAKE MANIFOLD
SPE - TITANIUM UPPER BLOW OFF VALVE PIPE KIT
SPE SPEC - CUSTOM JRZ SUSPENSION UPGRADE
SPE - SOLID BILLET ENGINE MOUNT KIT
SPE - REAR HARNESS BAR
SPE SPEC - ROLL CAGE + CHUTE SYSTEM
SPE - TITANIUM UPPER BLOW OFF VALVE PIPE KIT
TITEK - REAR DIFFERENTIAL BRACE
TITEK - TITANIUM COOLANT RESERVOIR TANK
TITEK - TITANIUM FRONT DIFFUSER SUPPORT BEAM
TITEK - UPGRADED REAR AXLE & STUBS
SPE SPEC - FLEX FUEL KIT