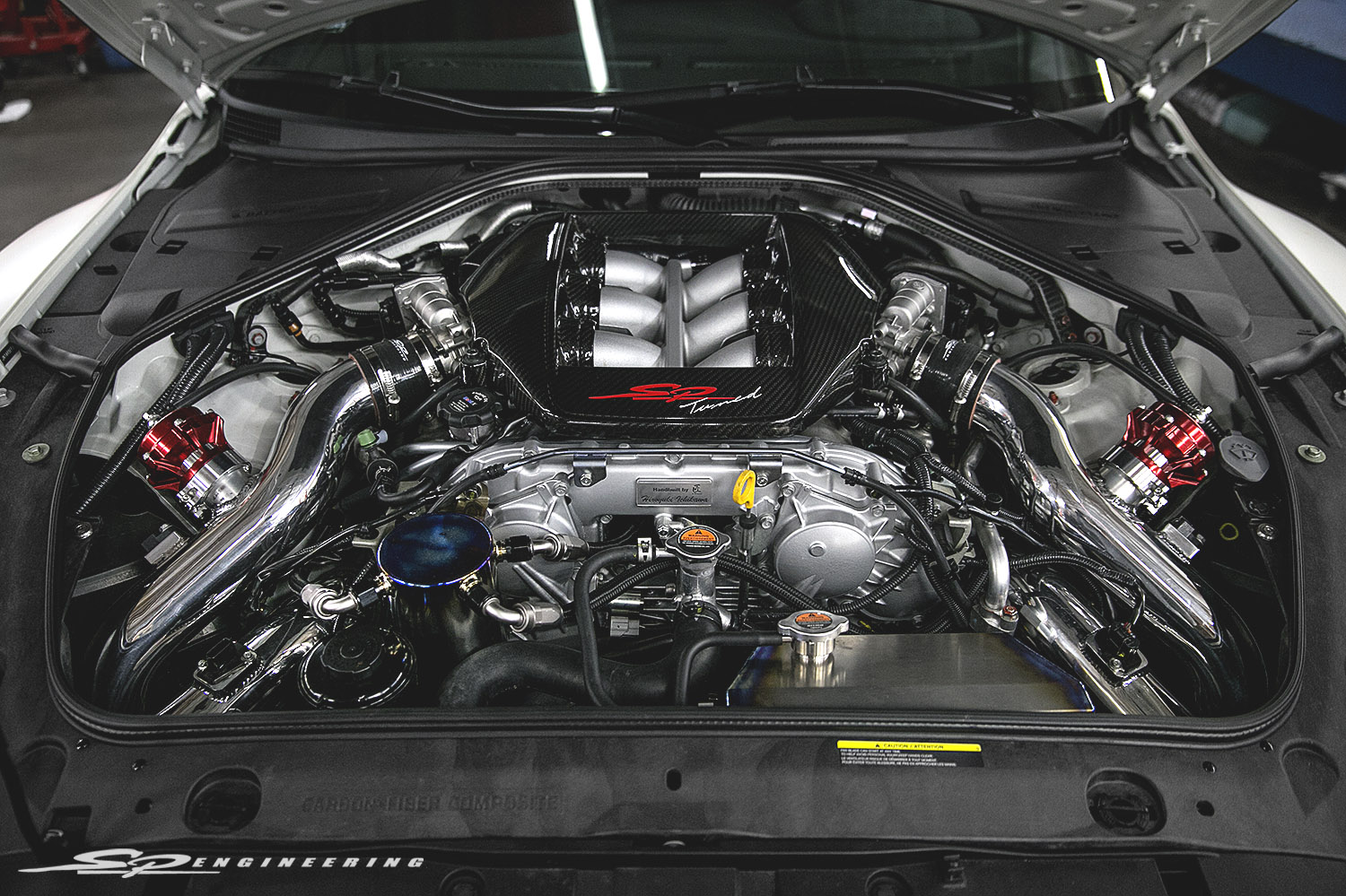 HORSEPOWER - PUMP GAS: 1000+ HP
C16 RACE GAS - 1250+ HP
PRICE - PLEASE CONTACT SPE FOR MORE INFO
BUILD TIME – 4 WEEKS
Listed Engine and Transmission Parts are Subject to Change
Thirsty for more? More is what you'll get with the SPE1200R. Coming in at nearly two times the horsepower and torque of a bone stock GT-R. The crazy part is, that even with all of this power, SPE1200R is guaranteed to produce safe, reliable and consistent results.
That means that for every situation, whether your wife is driving to get groceries or you want to feel like you're in a rocket ship at the track, SPE1200R will deliver precisely what you're asking of it. No need to be intimidated by large HP output. Simply enjoy the ride and get ready for the thrill of a lifetime.
Our SPE1200R package features a whirlwind of upgrades including; full race engine build, upgraded turbos, top of the line transmission components and a laundry list of upgrades all coming together to produce a lightning fast 1125+ hp beast.
PACKAGE INCLUDES:
SPE 1200 - TURBO SYSTEM
SPE SPEC - TURBO MANIFOLDS

SPE SPEC - BILLET 62MM PRECISION TURBOCHARGERS

TIAL - BILLET V-BAND WASTEGATES

SPE SPEC - HIGH FLOWING 3" STAINLESS STEEL V-BAND DOWNPIPES
SPE SPEC - RACE INTERCOOLER SYSTEM
SPE SPEC - INTERCOOLER PIPE KIT IN FULL POLISH

TIAL - BILLET BLOW OFF VALVE
SPE SPEC - RACE READY 3.8L LONG BLOCK
SPE SPEC - FULL BLUE PRINT AND BALANCED SHORT BLOCK

SPE SPEC - CARRILLO BILLET H BEAM CONNECTING RODS

SPE SPEC - HIGH COMP CP FORGED PISTONS

SPE SPEC - CAMSHAFTS, VALVES & SPRINGS (INCLUDES VALVE JOB, PORT & RESURFACED HEAD)

SPE SPEC - HEAD STUDS

SPE SPEC - TENSIONER & GUIDES
SPE SPEC - TITEK 3" COLD AIR INTAKE SYSTEM
SPE SPEC - INJECTORS (2,000CC)
SPE SPEC - TITEK HIGH VOLUME FUEL RAIL SYSTEM
SPE SPEC - FUEL PUMP HANGER SYSTEM (x3)
SPE SPEC - FUEL PRESSURE REGULATOR & GAUGE
SPE SPEC - TITEK 4" TITANIUM MID PIPE & EXHAUSTSYSTEM
SPE SPEC - HKS SPARK PLUGS RANGE 9
HKS - METAL HEAD GASKETS
OEM - MAIN AND ROD BEARINGS
OEM - COMPLETE GASKET SET
OEM - COMPLETE SEAL SET
- AC REFILL
- POWER STEERING FLUID
- ENGINE OIL AND FILTER
- ENGINE COOLANT
SPE SPEC - SPEED DENSITY COBB TUNE
SPE SPEC - BOOST CONTROL SOLENOID
COBB - V3 ACCESSPORT W/ ECM/TCM CONTROL
TRANSMISSION - SPE STAGE 4 TRANSMISSION:
STAGE 4 - (1200 FT LBS)
SPE SPEC PROMAX 10 DISC CPM ALLOY CLUTCH KIT
SPE SPEC EXTREME DUTY FULL GEAR SET 1-6
SPE SPEC REAR OUTPUT GEAR SET
SPE SPEC BILLET R/1 GEAR SHIFT FORK
SPE SPEC SOLID SHIFT FORK SHAFT FOR 2/4/6
SPE SPEC SOLID SHIFT FORK SHAFT 3/5
SPE SPEC FWD RETAINER
SPE SPEC FWD OUTPUT SHAFT SEAL
SPE SPEC 1, 3, 5 THRUST BEARING CIRCLIP
SPE SPEC 2, 4, 6 THRUST BEARING CIRCLIP
SPE SPEC MECHANICAL LOCK 1 & 2
SPE SPEC PISTON SHAFT SEALS (X2)
SPE SPEC SELECTOR PISTON SHIMS (X4)
SPE SPEC O-RING & SEAL KIT
SPE SPEC MAGNET KIT (6PCS)
SPE SPEC OUTPUT SHAFT END FLOAT SHIM
SPE SPEC HYLOMAR HIGH TEMP SEALANT
SPE SPEC TITEK REAR DIFFERENTIAL BRACE
OEM TRANSMISSION CYLINDER FILTER
OEM TRANSMISSION PAN FILTER
OEM TRANSMISSION & REAR DIFFERENTIAL DRAIN PLUG GASKET
OEM TRANSMISSION & REAR DIFFERENTIAL FILL PLUG GASKET
OEM REAR DIFFERENTIAL OIL SEAL
DODSON SYNCHRO SETS (RECOMMENDED, ADDTL CHARGE)
DODSON GEAR SELECTOR RINGS (RECOMMENDED, ADDTL CHARGE)
SPE - STAGE 5 UPGRADED TRANSMISSION
FULL STAND ALONE SYSTEM (MOTEC / SYVECS)
SPE SPEC - THROTTLE BODY
SPE SPEC - GREDDY INTAKE MANIFOLD + SPE TITANIUM PIPE KIT
SPE SPEC - TITANIUM UPPER BLOW OFF VALVE PIPE KIT
SPE SPEC - OIL CATCH TANK + CRANKCASEVENTILATION SYSTEM
SPE SPEC - SOLID BILLET ENGINE MOUNT KIT
SPE SPEC - REAR HARNESS BAR
SPE SPEC - CUSTOM JRZ SUSPENSION UPGRADE
SPE SPEC - GREDDY DCT COOLER
SPE SPEC - TITANIUM UPPER BLOW OFF VALVE PIPE KIT
TITEK - REAR DIFFERENTIAL BRACE
TITEK - TITANIUM COOLANT RESERVOIR TANK
TITEK - TITANIUM FRONT DIFFUSER SUPPORT BEAM
SPE SPEC - UPGRADED REAR AXLE & STUBS